Reenactors News
Subscribe to posts
The 155th anniversary Gettysburg re-enactment was a snapshot of a hobby with dwindling ranks.
Each November, 

Gettysburg

commemorates the establishment of the Soldiers' National Cemetery on Remembrance Day following the Battle of Gettysburg in 1863, which dedicated 17 acres to bury more than 3,500 fallen Union troops. President Abraham Lincoln arrived in Gettysburg by train on November 18th to attend the dedication ceremony for the cemetery the next day. There he delivered the Gettysburg Address, which eloquently honored those who fought and died at Gettysburg and continues to be one of the most revered speeches in American history. The event allows Gettysburg residents and visitors to commemorate the sacrifices made during and after the battle. These events are free and open to the public.
2014 Events
·         Remembrance Day Parade -November 15, 2014, 1:00 p.m. Downtown Gettysburg, Lincoln Square. The parade features Civil War living history groups.The Parade Route starts on LeFever Street, goes west on Middle Street, over to Baltimore Street and then onto Steinwehr Avenue.
The best place to watch is at the corner of Baltimore and Steinwehr Avenue.
·         Annual Remembrance Illumination- November 15, 2014, 5:30-9:30 p.m. Gettysburg National Military Park Museum and Visitor Center, 97 Taneytown Road Gettysburg, PA. The ceremony features the lighting of a luminary candle on each of the 3,512 Civil War soldier's graves. Names of the fallen soldiers will be read throughout the evening.
·         Dedication Event - November 19, 2014, 9:30 a.m. November 19, the anniversary of the Gettysburg Address and the Dedication of the Soldiers' National Cemetery, was formally designated as Dedication Day, by a joint resolution of the U.S. Senate and House of Representatives in 1946. This annual event features a wreath laying, keynote speaker and is sponsored by the Lincoln Fellowship of PA, Gettysburg National Military Park, Gettysburg College, and the Gettysburg Foundation. 
The beat of a drum rang out as the Confederate and Union soldiers took their positions on the battlefield. On one side the Union army appeared dressed in blue wool government-issued uniforms and carrying an American flag. On the other side the Confederates arrived in homemade outfits, most of which were brown, waving a Rebel flag. Both sides had their guns drawn.
Peering down the barrels of their rifles, the soldiers took aim at each other across the New Market Battlefield in New Market, Va. When they got close enough to shoot, they pulled their triggers without hesitation.
Plumes of smoke billowed out with each shot, and the soldiers yelled with delight as they watched their opponents fall to the ground. Other soldiers rode through the battlefield on horseback and engaged each other with swords, while others fired cannons. All relished in the thrill of the fight.
The combat lasted about an hour before the Confederates overcame the Union troops, forcing them over a hill just as it happened on that very battlefield in 1864 during the Civil War. Only this time no one really died and nothing was really lost.
This was a historical reenactment.
Authentic Reproduction
The Civil War reenactors began arriving for the Battle of New Market on Friday and prepared for a weekend stay. They set up their white primitive canvas tents on either side of the field and stoked campfires as rain poured down.
The next morning, as the sun shined bright, the reenactors put on period clothing. The men and women in the armies wore Union and Confederate military uniforms, while the civilian women and even the children donned outfits reminiscent of the 1800s.
"This is what you'd expect to see in 1862 in the Valley," said David Childers, of Manassas, Va., and a member of the 4th United States Regular Infantry. "Everything's pretty authentic. What you see is pretty much the way it was."
As the time for an artillery skirmish approached, soldiers in the Union army practiced marching and removing the bayonets from their rifles. In the Confederate camp, soldiers blackened new "recruits" faces with a dark substance and shot a few rounds into the air.
"Attention," a Union commander yelled. "Present arms."
Off in the distance the sound of a band could be heard performing battle tunes, preparing to offer the soldiers a light-footed beat as they made their way on to the battlefield.
"Turn 'God Save the South,'" Rick Long, of the 46th PA Regiment Band and 17th Miss Regiment Band, told the Union musicians. "No southern tunes, except we'll whistle 'Dixie' on queue when we have to."
The battle lines had been drawn.
Turning Back Time
After practicing their drills, soldiers on the Union side returned to camp to eat. Some cooked eggs and sausage over the campfires, while others smoked ham and stirred stews.
As they waited for their combat orders, the reenactors talked about history and shared in each other's company.
Rack Campbell and his son, Aaron, both of Fredericksburg and members of the 4th U.S. Infantry Co. I, sat outside of their tent and cleaned their rifles.

The Campbells, who have been reenacting together for at least a handful of years, say they enjoy reenacting because it allows them to step back in time and let go of their worries.
"My family has lived in Virginia for 300 years almost, so we have a lot of roots here," said Rack Campbell, 45. "We had family on both sides. … [Reenacting] gives us a feeble sense of what it must have been like for them.
"It's hard to explain to anybody who's never done it," he added, "but the first time you go out and 1,000 rifles go off. It's as close to a time machine that you'll ever find."
A Better Understanding Of History
On the Confederate side, a group of soldiers from the 27th Virginia Volunteer Infantry Co. G sat in a circle and talked about why they think it's important to keep Civil War history alive.
Dave Shields, 35, of Pittsburgh and a member of the 27th Virginia Infantry, said reenactors do not relive the war because they want to remember the negative aspects of it. They do it to have a better understanding of history.
"We see history for what is was," Shields said. "We're not here to deny it or glorify the hate aspect of it. We're here because everyone in that war fought for what they believed in."
Reenacting the war helps give people a better understanding of why things happened the way they did and what the climate of the country was like at the time, said Chuck Gerhart, 31, of Bridgeport, W.Va., and a member of the 27th Virginia Infantry.
"To really truly understand what was going on, you have to put yourself in that time," Gerhart said. "What was the world like? How did they live?"
Time To Fight
Moments later, the commanders rounded up troops on each side, and the soldiers got into formations as they prepared to take to the battlefield.
They lined up on either side of the field just as they did before. Only this time, instead of having to stick to the script of the New Market battle, the troops had their own game plans.
The Confederates charged into the field as the Union army fought back blasting their cannons and firing round after round at the enemy. Then a group of Union soldiers pushed forward in an attempt to overthrow the Rebels.
But their effort was for naught. Many of the Union men died and the Confederates declared victory.
Return To The Present
On Sunday, when the battles were over and the weekend came to an end, the reenactors walked around the campsites one last time to take in the serenity of the area.
They packed up their tents and other belongs, said farewell to their friends and vowed to see each other again soon on the reenacting trail.
"If you're willing to travel five or six hours, you can do a reenactment every weekend of the year," Childers said. "It's a good way to spend some time."
There was a glitch five years ago when Vice President Dick Cheney came to the 145th anniversary re-enactment of the Battle of Chickamauga to honor his great-grandfather Samuel Fletcher Cheney, who saw action in the bloody Civil War battle as a sergeant with the 21st Ohio Volunteer Infantry.
For security's sake, Civil War re-enactors were told to leave their rifles behind as they marched near Cheney to kick off the three-day re-enactment on a 1,000-acre farm in Walker County, Ga. That's because the Secret Service had just learned the re-enactors' guns weren't replicas, but actual weapons.
"They're working guns," said Walker County Coordinator David Ashburn, who tipped the Secret Service off to the guns' viability during a pre-event security meeting. "The only thing [re-enactors] don't do is put the lead ball in them."
Avoiding glitches like that is a high priority for Ashburn and other local officials organizing the events planned to commemorate the fast-approaching 150th anniversary of the Battle of Chickamauga.
Thousands of people are expected this weekend for history talks, hikes and other events held at the actual battlefield. Next weekend, thousands more Civil War re-enactors and spectators will converge for the battle re-enactment at Mountain Cove Farms, 1,839 acres of public land in rural Walker County where Lookout and Pigeon mountains meet.
A number of groups and government agencies are involved with the Battle of Chickamauga re-enactment, but there's no central website or clearinghouse for all the information.
"It's kind of a coordinated/uncoordinated effort putting this all together," said Brent Templeton, owner of the Templeton Design Group of Ooltewah, which designed a Battle of Chickamauga re-enactment marketing campaign that includes three billboards on Interstates 24 and 75, a website, a map and an iPhone app to help direct visitors to the re-enactment.
"Whenever you have so many [entities] involved in trying to put on an event like this -- the more the merrier, I guess, is their thinking," Templeton said.
That's typical for sesquicentennial Civil War re-enactments around the country, said Carl Whitehill, spokesman for the Gettysburg Convention and Visitors Bureau, in Gettysburg, Pa. The bureau helped market the 150th anniversary of the battle there that included two separate re-enactments: one in late June organized by the Blue Gray Alliance of Civil War re-enactors and another in early July put on by the Gettysburg Anniversary Committee.
"The tough part is, it's a big community effort," Whitehill said. "No one entity is in charge."
A steering committee in Gettysburg that began with half a dozen people grew to about 50 members as the anniversary neared, he said. Typically, the "stakeholders" in Civil War re-enactments include the National Park Service, which owns the actual battle site, local governments and chambers of commerce, re-enactors, law enforcement personnel and transportation agencies.
"It actually did go very smoothly," Whitehill said. "We worked hard at the infrastructure needs."
So are Battle of Chickamauga organizers ready?
"Yes," Ashburn said Wednesday. "It'll be ready."
Local officials have been working with such agencies as the Tennessee Department of Transportation and the Georgia State Patrol, he said, and on Wednesday morning held their latest interagency traffic planning meeting.
An example of preparations: Drivers coming from the west on Interstate 24 will be directed to exit at Broad Street or Rossville Boulevard. But if those exits back up, Ashburn said, a Tennessee Department of Transportation "dynamic message sign" over I-24 near South Pittsburg will encourage re-enactment traffic to hang a right on Interstate 59 and head south.
Signs also have gone up around Walker County, including letting people know they won't be able to drop down off Lookout Mountain and reach Mountain Cove Farms from Dougherty Gap Road, because it will be closed from that direction during the event.
"It's going to work well," said Chickamauga City Manager John Culpepper, who's coordinating the re-enactment for the Blue Gray Alliance.
Georgia State Patrol officers and Walker County sheriff's deputies will direct traffic during the event, he said, and organizers have held meetings with law enforcement personnel from Fort Oglethorpe, Chickamauga, Dade County, Ga., and DeKalb County, Ala.
"I think it's going to be one of the best laid-out events for the spectators and re-enactors that I've ever been to," said Culpepper, a Civil War buff who has participated in re-enactments since 1999, including two Gettysburgs.
Re-enactment not at battlefield
A basic concern for event organizers is to let visitors know that the re-enactment will be held at Mountain Cove Farms -- about 30 miles from the actual Chickamauga Battlefield -- because the National Park Service doesn't allow re-enactments to take place on battlefields, which are considered hallowed ground.
"That's one of the things that some people will be surprised at when they get here: That the re-enactment is not actually at the battlefield," Templeton said.
Templeton worked with Chris McKeever, director of the 6th Cavalry Museum. They were paid by the Walker County Economic Development Agency, which spent $50,000 to promote the re-enactment. The duo said they did what they could to stretch their funding.
"We sold ads to pay for the app and to pay for the map," Templeton said.
More than 20,000 copies of the 9- by 13-inch map were printed and have been distributed to such locations as area motels, state welcome centers and the Chickamauga Battlefield Visitors Center.
Red letters at the top of the map state, "Reenactment is NOT being held in Chickamauga National Military Park."
"It is going to be very helpful, since visitors will be confused thinking the re-enactment is on our property," said Kim Coons, spokeswoman for the Chickamauga and Chattanooga National Military Park. "We will be giving those maps out during the re-enactment weekend."
The free app will help iPhone users find their way around. Event organizers would have also liked to have an app compatible with Android phones, but weren't able to finish it in time.
"It took us so long to get the iPhone one done, we didn't get the Android done," McKeever said.
Local businesses helped pay for the billboards. One is on I-24 near I-59, another is on southbound I-75 near Cleveland and the third is on northbound I-75 in Calhoun County to get drivers to use exit 320 at State Route 136, which runs through LaFayette.
Planning for Gettysburg's 150th anniversary got going in 2010. McKeever said planning began even earlier here: In 2008, right after the 145th re-enactment that Vice President Cheney attended.
"The minute it was over with, John [Culpepper] was beating the drum, [saying] we've just got five years to get ready for the 150th," she said.
http://www.timesfreepress.com/news/2013/sep/15/chickamauga-at-150less-blood-plenty-of-sweat/
GETTYSBURG — Planning matters.
Years of preparation for the 150th anniversary of the Battle of Gettysburg enabled a remarkably smooth transition as this town of 7,600 swelled on Monday to several times its normal population. Nightmare scenarios of endless traffic backups on the town's 19th century road system failed to materialize, and the National Park Service's plan of spreading the crowds throughout the park with simultaneous events led to a steady progression of thousands of vehicles moving over the park's narrow, wooded blacktop lanes.
As many as 200,000 people are expected to descend on the area during 10 days of events surrounding the anniversary of the three-day battle, which raged from July 1 to 3, 1863. More than 158,000 combatants joined the bloody fight.
"This is far more people" than a typical anniversary, said Ellen Mann, 63, who bought a house in Gettysburg with her husband, Chip, five years ago. They spend most of their year in Reno, Nev., where they work as accountants, but travel to Gettysburg once tax season ends, she said.
Friends suggested they skip the anniversary this year and capitalize, as many in Gettysburg have, by renting their house. Ellen Mann estimates they could have charged about $3,000 for the week.
"We loaded the refrigerator with food so we don't have to go anywhere," she said.
But the couple joined the crowds anyway, volunteering Sunday night to help light luminaria on 3,512 Union soldiers' graves in the National Cemetery, where the opening ceremony concluded. They sat on a bench in the national cemetery as thousands of visitors to their adopted hometown walked quietly past the flickering lights of the somber, enormous memorial they helped create.
"This is why we're in Gettysburg," she said.
Shortly after noon on Monday, about four hours after tourists and re-enactors marked the first shots fired in the battle, it took about 12 minutes to travel just less than a mile from the town's center to the edge of the battlefield on Cemetery Hill. Getting to the park entrance took less than 20 minutes, and a trip to the Pennsylvania Memorial, where Union re-enactors drew thousands of people to booming artillery demonstrations near their encampment, took less than half an hour.
"It really hasn't been unreasonable," said Sarah Mishler, 25, of Lisbon, Ohio, a re-enactor with the 19th Ohio Light Artillery, whose bright purple period dress slowed traffic along Hancock Avenue near the Union encampment. People who came to the park knew what they were getting into, she said.
Though people were able to move around better than had been expected, the thousands of cars squeezing through this small town kept police Chief Joseph Dougherty's 13-person department hopping.
"We're constantly moving around to keep traffic flowing. We've gotten a lot of help from the state police," Dougherty said. "Traffic is not as bad as we expected. Most of the town is really not too bad."
The volume of emergency medical calls was "like a busy weekend," said Assistant Fire Chief Bryan Wasylyk. The department handles about 2,200 EMS calls and 800 fire calls a year, he said.
Even the town square — a traffic circle regulated only by yield signs at each of the four entrances — flowed more smoothly than some expected. The day's biggest problem came at mid-morning, when flaggers tried to manage the flow rather than just stopping cars for pedestrians as they were supposed to.
"That just made things worse," Dougherty said.
Free public transportation and shuttles from remote parking lots to the battlefield alleviated much of the congestion, and simultaneous events throughout the park thinned the crowds gathering in any one place, said Katie Lawhon, a ranger at Gettysburg National Military Park.
"We had no trouble at all," said Jon Brighton, 38.
Brighton of Philadelphia relaxed under a mostly cloudy sky beside the monument to the 1st Minnesota Volunteer Regiment with his wife, son and parents, who are visiting from Wales.
"It's a very moving experience," said Paul Brighton, 71, his father. Quoting Abraham Lincoln's Gettysburg Address, Paul Brighton said the battle is a reminder of the ideals linking all democratic societies, not just the North and South of this one.
"It has the attention not only of Pennsylvania; it has the attention of the world," Gov. Tom Corbett said after cutting the ribbon Monday morning to open the Seminary Ridge Museum in Schmucker Hall on the campus of the Lutheran Theological Seminary at Gettysburg.
The building played a major role in the battle, first as the spot where the Confederates advanced and Gen. John Buford surveyed the terrain that would help the Union win the battle, then as a field hospital treating the wounded of both sides.
Corbett and his wife, Susan, didn't tour the museum.
"I didn't get a chance to look at it all," Corbett said, adding, "I made a mental note to myself to come back when the crowds aren't here."


Read more:

 

http://triblive.com/news/allegheny/4277179-74/gettysburg-battle-park#ixzz2XtAbdYyt

 


Follow us:

 

@triblive on Twitter

 

|

 

triblive on Facebook
When David Delisi takes to the battlefield in Gettysburg over the long July 4th weekend, he won't be thinking of his accounting firm, Delisi, Keenan & Associates, missed cellphone messages or upcoming appointments.
Delisi, along with his son and daughter, are living historians — part of a group of Civil War re-enactors of the 11th PA Volunteer Infantry Co. F who will travel to Gettysburg to commemorate the 150th anniversary of the battle there between Union and Confederate forces in July 1863.
"I'm a CPA, but I don't think about it when I'm there," said Delisi, a graduate of Indiana University of Pennsylvania.
"I was in ROTC at IUP and I enjoyed going out in the field," said Delisi, a member of Westmoreland County Historical Society. "It's like when I was a kid, I played Army. This is like Army for adults."
The 11th PA Volunteer Infantry Co F fought in several major battles, including Gettysburg, Antietam in September 1862, Battle of the Wilderness in May 1864 in northern Virginia, the Siege of Petersburg in 1864-65 and at the Battle Appomattox Court House, where Confederate States General Robert E. Lee surrendered in April 1865.
Reports state the battle began as the Confederate forces under Lee invaded Pennsylvania during the war's third year. Lee's Army from Northern Virginia was beaten back by the Union's Army of the Potomac, led by Gen. George Meade from Pennsylvania. Meade's troops beat back Pickett's Charge, an assault ordered by Lee, on Cemetery Ridge on July 3, 1863, the last day of the Battle of Gettysburg. (The attack was named for Maj. Gen. George Pickett, one of three Confederate generals who led the assault under the charge commander, Lt. Gen. James Longstreet.)
Delisi, through the Greensburg Rotary Club, will be bringing two students from Greensburg, Kansas, the site of a devastating tornado in 2007, along with him to Gettysburg as part of a Rotary exchange program. The Kansas students are visitng from June 26 until July 17, according to the Rotary's website.
Keith MacGregor, part of 142nd PA Volunteer Infantry Co. F, has worked many events with Delisi over the years.
"I've known Dave a long time," said MacGregor, director of loss prevention for New Penn Motor Express in Lebanon. "He is a great living historian and contributor to the group."
For MacGregor, the opportunity to commemorate what actually occurred in Gettysburg 150 years ago by portraying a unit that was actually there is an unforgettable experience.
For both Delisi and MacGregor, interacting with other re-enactors who share the same appreciation for history is an advantage.
"When it's just us living historians around the campfire ... away from TV and cell phones ... you do a little time travel and get to experience these great historic events, " MacGregor said.


Read more: http://triblive.com/neighborhoods/yourhempfield/yourhempfieldmore/4256663-74/delisi-battle-gettysburg#ixzz2XWZN8WZz 
Follow us: @triblive on Twitter | triblive on Facebook
The scale of the battle is nothing short of mind-boggling.
With up to 15,000 Civil War reenactors re-creating the epic clash at Gettysburg for its July sesquicentennial, and about 80,000 spectators watching, the tiny crossroads town will become one of Pennsylvania's most populous municipalities, if only for a few days.
The Union and Confederate "soldiers" will come from all 50 states and will be joined by nearly 300 from 16 foreign countries, including Australia, France, Japan, Spain, Germany, Britain, and Ireland. An additional 245 visitors are flying in from 18 countries, including Israel and Finland.
And what a spectacle they'll see - and feel. The concussive blasts of at least 135 artillery pieces will thump chests and fill the air with the acrid smell of gunpowder and sulfur. The ground will quake beneath the hooves of more than 400 horses.
But the re-creation of this pivotal piece of 1863 history, to be held from July 4 to 7, will come with modern twists.
One hundred and fifty years after the battle, the immense needs of so many people and animals will be provided by organizers of the bloodless event. They'll supply 2,000 bales of hay, six 6,000-gallon water tankers, and 100 cords of camp firewood, not to mention 300 porta-johns.
And for those unable to attend, the battle will come to them. They can watch the highlights - including the live reenactment of the climatic Pickett's Charge - on the computer, tablet, or smartphone. History buffs can pay $12.99 to subscribe atwww.gettysburgbattlecast.com. A DVD production - directed by historical filmmaker Rob Child - will be completed by November and offered for sale.
"We're ready," said Randy L. Phiel, chairman of the Adams County commissioners and operations manager of the reenactment. "The only thing we can't control is the weather.
"If it's really hot, we can deal with that," he said. But if there are heavy or prolonged rains, "the turf will go south and it's tough to operate. Only the good Lord can control that."
The historical Woodstock-like event is being held by the Gettysburg Anniversary Committee: Phiel, a retired National Park Service law enforcement ranger and Gettysburg native; Tony Strickland, another native, who has four gift shops in Gettysburg; and George H. Lomas, who attended Germantown High School and has shops in town.
It will be held on the Redding and Entwistle farms along Table Rock Road north of town, where the organizers have gone to great lengths to portray the fighting of July 1 to 3, 1863, even building a stone wall to mimic one that shielded Union forces. Spectator admission is $35 for a day, $90 for four days.
Another Gettysburg reenactment held by the Blue Gray Alliance will be from June 27 to 30 at the Bushey Farm on Pumping Station Road. More than 8,000 reenactors have registered and thousands of $10 tickets have been purchased, said Kris Shelton, an event spokeswoman, who lives in Raleigh, N.C.
"Our event is reenactor-friendly," said Shelton, whose organization will provide water to participants to cope with heat. "We're focused on the reenactor experience.
"We're not putting on a show or demonstration," she said. "Units will be moving as they did - on similar terrain."
As many as 500 reporters from across the world are expected to cover both reenactments.
At the Gettysburg Anniversary Committee event, about 400 workers will help provide security, oversee parking, manage the gates, sell merchandise, shuttle the handicapped, and take water and hay to horses.
Other, smaller reenactments organized by the committee usually cost about $300,000 to put on, Phiel said. This one will run more than three times that. It's funded by ticket and merchandise sales, reenactor registration fees, and private capital.
Spectators will browse Civil War-related wares, attend music performances, see period balls, and visit Yankee and rebel camps spread over 800 acres.
The grounds are being prepared and work will continue over the next few weeks. Organizers spent hundreds of thousands of dollars to lay gravel roads and build small bridges to reenactor camps on the leased farms. And they will install about 1,000 feet of five-rail fencing like the kind the gray ranks met when they tried to cross Emmitsburg Pike in Pickett's Charge.
Spectator stands, mountains of mulch, and dozens of watering troughs for horses have been acquired, too.
"I feel a responsibility to a lot of folks - visitors, reenactors, and the community," Phiel said. "This might be the last opportunity for a really large, significant reenactment."
Next year's event will be moved to a smaller site, organizers said.
"This is an aging hobby; younger folks are not as much into it," Phiel said. "It's the cost of the kit [about $1,200 for a rank-and-file soldier] and cost of gasoline" to travel long distances to Civil War events in several states.
The 150th anniversary "creates more enthusiasm," said C. David Redding, owner of the Redding farm, where most of the reenactments and other events are planned. "A lot of the older reenactors have been holding on to be part of this."
The grandstand area, activities tents, living history demonstrations, and sprawling Union encampment will be on Redding's land. "We're busy preparing for it all the time," he said.
The event "will be a lot bigger than people realize," said Jim Entwistle, who owns the adjacent farm where the Confederate encampment is located. "But the guys who are running it are really organized. I'll just sit back and enjoy it."
One of Entwistle's fields will not be baled so that the reenactors can recreate the so-called Battle of the Wheatfield on July 2, 1863, said Entwistle, who has hosted the event several times. He marvels at the authenticity and attention to detail.
"I have a bunch of grandkids and their favorite part is watching it up close, when the Confederates are marching down the driveway with 'Gen. Robert E. Lee' leading them on horseback," he said.
The battle is choreographed so each unit knows where it will be, Phiel said. Pyrotechnic ground explosions will go off during Pickett's Charge as the Southerners disassemble the fence along Table Rock Road - representing Emmitsburg Pike - for the final charge toward federal troops along the stone wall, known as the Angle.
Not many will make the wall, but those that do will engage in hand-to-hand combat, pushing the federals back until reserves pour in to end the attack. Soldiers fall as they feel led by circumstances around them.
At the battle culmination, "Taps" will be played while reenactors stand at attention. Then, hats will be thrown in the air and blue and gray soldiers will shake hands across the wall.
"It will be one heck of a visual," said Phiel.
---
Gettysburg: By the Numbers
The four-day reenactment, July 4-7, will be held along Table Rock Road north of Gettysburg, at a total cost of $900,000. The event will include:
80,000 spectators including 245 from 18 countries
15,000 reenactors from all 50 states including 300 from 16 countries
1,000 feet of fencing
800 acres of battle grounds and camps
500 reporters from around the world
400 horses
Six 6,000-gallon water tankers
2,000 bales of hay
400 workers
300 porta-johns
135 artillery pieces
100 cords of camp firewood
$35 for a one day spectator ticket; $90 for all four days.
---
>Inquirer.com
Visit www.inquirer.com/gettysburg  for more coverage, including videos, Inquirer Civil War front pages, and an interactive map of Civil War sites in Philadelphia.
---
Contact Edward Colimore at 856-779-3833 or ecolimore@phillynews.com.
A few overgrown lumps of earth and holes in the ground are the only surviving signs of a feverish attempt 150 years ago to erect hilltop fortifications for what seemed a likely rebel attack.
Historians are working to keep alive the story of dozens of Civil War fortifications hastily built around Pittsburgh during June and July of 1863.
Workers built 37 fortifications, trenches and defensive moats from the East End to the North Side, from Uptown to Turtle Creek and the South Hills. Few remain today, plowed under by urban development.
"It's like hidden history right here in Pittsburgh," said Ruth McCartan, a former teacher and president of the Allegheny City Society.
Gripped by growing fears as Confederate Gen. Robert E. Lee brought his troops north, employers dispatched thousands of workers in June 1863 to build earthen fortifications around the city.
It was a scene somewhat repeated during the Cold War, though with a ring of Nike missile sites instead of earthen forts. The intent, though, was the same.
"We were making steel then," said David Grinnell of Observatory Hill, secretary of the Allegheny City Society. Steel needed to be protected.
Turning to old maps, including one drawn on July 20, 1863, and other research dating to 1919, the Allegheny City Society traced the approximate location of the five forts on the North Side. People can tour them Saturday.
"I don't think a lot of people realize the local aspect of the Civil War. Four thousand people from Allegheny County were killed," said McCartan, 63, of McCandless. Her group promotes the history of Allegheny, a separate city from 1840 until 1907, when Pittsburgh annexed it and it became the North Side.
Efforts to retell the Civil War stories are crucial to keeping them alive, especially for young people, said John Campbell, president of the Greater Pittsburgh Civil War Roundtable.
"Those forts would have become vitally important if Robert E. Lee decided to turn left instead of right," Campbell said.
Forts were located on Mt. Washington, Squirrel Hill, the South Side, Greenfield, Stanton Heights and Garfield. A couple of "clear remnants" of the old North Side forts remain, said Grinnell.
Fort Brunot, located at what is now the Pressley Ridge School on Marshall Avenue, was a small fort with a powder magazine built on the hillside of the McKeever farm.
Although most of the fortifications were circular and intended to house cannon and other weaponry, Fort Brunot was square.
"It had a high wall and a bit of a trench around it," Grinnell said. It was one of the few forts actually completed, the society's research showed.
The remnants of an earthen works believed to be Fort Childs remain in Spring Hill, he said. Fort Kirkwood, built in Millvale, was in sight of the Allegheny Arsenal in Lawrenceville, which was turning out 40,000 bullets a day for the war effort.
Although the Southern invaders never came here, the threat was real, historians said.
"In 1863, the Confederate Army was rolling up on anything in front of them," said Michael Kraus, curator at Soldiers & Sailors Memorial Hall & Museum in Oakland.
About 10,000 men were leaving Western Pennsylvania to fight at Gettysburg, Kraus said.
Lee's defeat at Gettysburg helped end the fear of invasion. Work on the forts continued into July, McCartan said, but the fortifications were abandoned and now beckon history buffs.
"The majority of people who study, research and document the Civil War are not professional historians," said Eric J. Wittenberg, a Columbus, Ohio, attorney and Civil War historian. "They're amateurs, like me, who are dedicated to telling these stories and to keeping these memories alive. Without their efforts, there are too many stories that would otherwise go untold."
The lessons learned in 1863 and in 1963 had to do with the deterrent value of good preparations, said Andy Masich, chairman of the Pennsylvania Historical and Museum Commission and CEO of Senator John Heinz History Center in the Strip District.
No weapons were fired from the forts surrounding Pittsburgh, nor missiles launched from one of 14 Nike sites across Western Pennsylvania. The sites housed the country's first guided surface-to-air missiles and a primary defense against a Soviet nuclear attack.
"Did the enemy think twice?" Masich asked.

Read more: http://triblive.com/news/allegheny/4060688-74/war-civil-fortifications#ixzz2WTIW4X4y 


MEDINA — Smoke obscured the sight of the men, clad in the Confederate gray and rifles at hand, as they charged forward with shouts toward a ridge line, where their once and future countrymen stood and fired a procession of percussive volleys across the field.
It was scene from another time, rendering a hauntingly realistic view into the fraternal conflict for the modern-day audience assembled at the Genesee Community College's Medina campus.
GCC's second annual Civil War Initiative hit its pinnacle this weekend with an encampment and other events that blurred the differences between 2013 and 1861. A downtown parade Saturday echoed the 150-year-old emotions of a ceremony that surrounded the departure of local men that had enlisted shortly after the attack on Fort Sumter.
Following a procession of drum and fife bands and re-enactors of Union and Confederate units, the sword used by Capt. Erwin Bowen of the New York 28th Infantry's Medina company, was presented by Bowen's great-great-granddaughter, Mary Zimmerman, to Simon Taylor, who portrayed Bowen.
Both were dressed in the styles of the Civil War-era as they echoed the words said at the original ceremony, pulled from newspaper clippings by encampment honorary chairman Adam Tabelski.
"Trusting in the God of Justice, who alone can rule the contest, we tearfully commend you and yours to His keeping, and wait with a firm belief, that after this hour of country's danger has passed, you will return bearing the Star Spangled Banner, tattered it may be and torn, but without a star or a stripe effaced," Zimmerman said. "Take then, this sword. We give it you with confidence, feeling that it will always be used to promoted freedom, justice and union."
The ceremony permitted GCC instructor of history Derek Maxfield to inhabit another time. Maxfield took on the role of local educator Oliver Morehouse, who encouraged strength of devotion for both the soldiers and citizens staying behind at the 1861 ceremony.
"When you're standing there and speaking the words that were said at that place and at that specific moment, it's remarkable," said Maxfield, the coordinator of the Civil War Initiative. "It transcends time."
The sesquicentennial anniversary of the Civil War will be marked this summer with huge gatherings in the locations where a nation's division reached violent ends.
Orleans County was far removed from those tragic moments, but the initiative strives to present the contributions of local soldiers and the honorable service of men on both sides of the war.
"There's a romance to it — it was a different era and a different culture," said Maxfield, who noted that historians have developed a "Lost Cause" narrative that honors both the victorious Union and the defeated Confederates. "They recognize that there was bravery and courage on both sides."
Like many communities in upstate New York, companies of local men heeded the call to arms, often serving with their relatives and neighbors. That was true for Company D of the 28th New York, which fought in the Shenandoah Valley and at the Battle of Chancellorsville.
"It was like the entire community went to war," Tabelski explained. "They were living, marching and fighting with men from Medina."
The history of Company D was presented along with a  scaled-down yet diverse display of camp life and presentations of lectures and historic artifacts.
The event was greeted with kind weather and an appreciative crowd of 2,500, which calls for an encore. Maxfield said Sunday that preparations are under way for the 2014 Civil War Initiative, which will once again be in Medina on the last weekend of April.
http://thedailynewsonline.com/news/article_0a5c19b2-b0c5-11e2-8eae-0019bb2963f4.html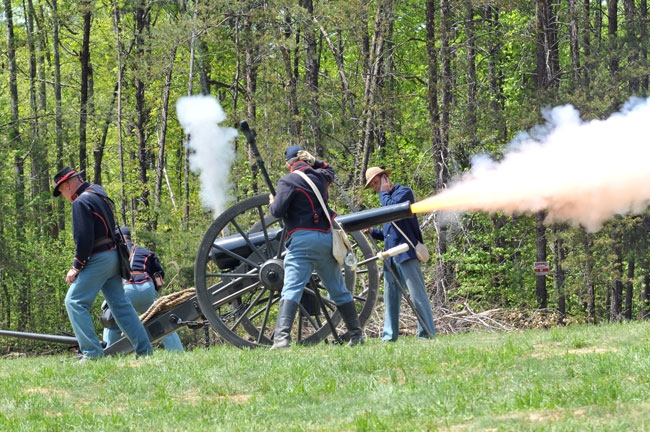 STAFFORD, Va. – It might not have been such a good thing for a Civil War soldier to make it to a field hospital since about one-in-four died there after surgery, according to "Doc" Pete Peters, a Civil War "surgeon" assigned to the Army of the Potomac.
Peters and dozens of other Civil War re-enactors came to Stafford Saturday to help commemorate the county's opening of a new Civil War Park.
It was mostly infection that did in the wounded, since Civil War-era medics hadn't a notion of germs, Peterson told people who stopped by his field hospital to get a look at his bone saws scalpels, knives and other medical instruments contemporary to the Civil War.
Peters went on to tell visitors that a good Civil War surgeon could remove a man's leg in seven minutes and that amputated body parts, the blood and gore associated with 19th Century surgery usually wound up on the floor around the surgeon's feet.
It was standard operating procedure, he said.
"There would be arms, legs, toes, fingers and everything else lyin' around," Peters said told small groups of people who stopped by his tent to see his medical instruments and medicine.
Peters, who wore a "blood-stained" white butcher's apron, said that as his instruments dulled, a doctor would often use the leather soles of his boots to sharpen them.
"You've got to understand I'm steppin' on everything by virtue of what I'm doing. I didn't realize that I shouldn't be doing that," he said of the instrument-honing methods of Civil War doctors.
Stafford County's newest 41-acre park, at 400 Mount Hope Church Road, was the site of the Union Army's 11th Corps, 1st and 3rd Division's 1883 winter encampment of more than 135,000 soldiers and was dedicated Saturday as part of the Civil War Sesquicentennial, according to the county website
Peters' field hospital wasn't the only stop where people could pick up pieces of Civil War history to take away and store away in their minds.
Visitors to the park opening also had the chance to see re-enactors representing Reilly's West Point Battery Regulars, 5th Artillery Regiment, charge their teams horses, with cannons rattling behind, to firing positions where gun crews fired the cannons, startling people watching from sidelines in spite of the fact that one of the gun crew soldier yelled, "Fire!" just before the cannon boomed
Joe Slifer, a re-enactor with Reilly's Battery, was there to give visitors all the information they might want to know about Civil War cannon batteries.
He said it took a lot of men and horseflesh to wage war back in the day.
Each cannon was drawn by six horses. Gun crews had 72 horses harnessed at any time, ready to pull six guns wherever they might need to be positioned, Slifer said.
He went on to say that each team was matched with at least one team of replacement horses, plus horses for outriders, or scouts.
"You had a couple hundred horses, minimum for a one-battery unit," he said.
Sean Otto, brought his family to the new park to see the sights and came away with a few things he didn't know before his visit.
"I learned that Stafford has a long history, with the Civil War in particular," said Otto, a captain with the Va. National Guard's 276th Engineering Squadron. Today is the 150th Anniversary of this particular camp and 3,500 people died in this camp in that winter."
Other Civil War-era attractions in Stafford County which help "tell the story of how the war touched our county," include the White Oak Museum and Chatham Manor, according to the county website.
http://potomaclocal.com/2013/04/29/staffords-civil-war-park-opens/