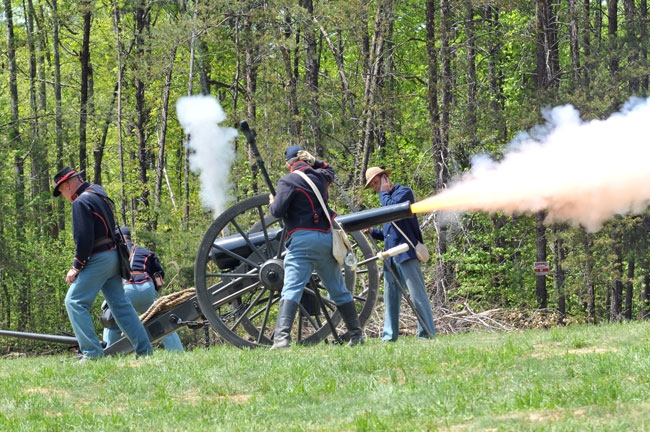 STAFFORD, Va. – It might not have been such a good thing for a Civil War soldier to make it to a field hospital since about one-in-four died there after surgery, according to "Doc" Pete Peters, a Civil War "surgeon" assigned to the Army of the Potomac.
Peters and dozens of other Civil War re-enactors came to Stafford Saturday to help commemorate the county's opening of a new Civil War Park.
It was mostly infection that did in the wounded, since Civil War-era medics hadn't a notion of germs, Peterson told people who stopped by his field hospital to get a look at his bone saws scalpels, knives and other medical instruments contemporary to the Civil War.
Peters went on to tell visitors that a good Civil War surgeon could remove a man's leg in seven minutes and that amputated body parts, the blood and gore associated with 19th Century surgery usually wound up on the floor around the surgeon's feet.
It was standard operating procedure, he said.
"There would be arms, legs, toes, fingers and everything else lyin' around," Peters said told small groups of people who stopped by his tent to see his medical instruments and medicine.
Peters, who wore a "blood-stained" white butcher's apron, said that as his instruments dulled, a doctor would often use the leather soles of his boots to sharpen them.
"You've got to understand I'm steppin' on everything by virtue of what I'm doing. I didn't realize that I shouldn't be doing that," he said of the instrument-honing methods of Civil War doctors.
Stafford County's newest 41-acre park, at 400 Mount Hope Church Road, was the site of the Union Army's 11th Corps, 1st and 3rd Division's 1883 winter encampment of more than 135,000 soldiers and was dedicated Saturday as part of the Civil War Sesquicentennial, according to the county website
Peters' field hospital wasn't the only stop where people could pick up pieces of Civil War history to take away and store away in their minds.
Visitors to the park opening also had the chance to see re-enactors representing Reilly's West Point Battery Regulars, 5th Artillery Regiment, charge their teams horses, with cannons rattling behind, to firing positions where gun crews fired the cannons, startling people watching from sidelines in spite of the fact that one of the gun crew soldier yelled, "Fire!" just before the cannon boomed
Joe Slifer, a re-enactor with Reilly's Battery, was there to give visitors all the information they might want to know about Civil War cannon batteries.
He said it took a lot of men and horseflesh to wage war back in the day.
Each cannon was drawn by six horses. Gun crews had 72 horses harnessed at any time, ready to pull six guns wherever they might need to be positioned, Slifer said.
He went on to say that each team was matched with at least one team of replacement horses, plus horses for outriders, or scouts.
"You had a couple hundred horses, minimum for a one-battery unit," he said.
Sean Otto, brought his family to the new park to see the sights and came away with a few things he didn't know before his visit.
"I learned that Stafford has a long history, with the Civil War in particular," said Otto, a captain with the Va. National Guard's 276th Engineering Squadron. Today is the 150th Anniversary of this particular camp and 3,500 people died in this camp in that winter."
Other Civil War-era attractions in Stafford County which help "tell the story of how the war touched our county," include the White Oak Museum and Chatham Manor, according to the county website.
http://potomaclocal.com/2013/04/29/staffords-civil-war-park-opens/